Education appeal raises £2,000 in first few days
MFFC news | credit: by Natasha Hickman on: Tuesday, 15 February 2022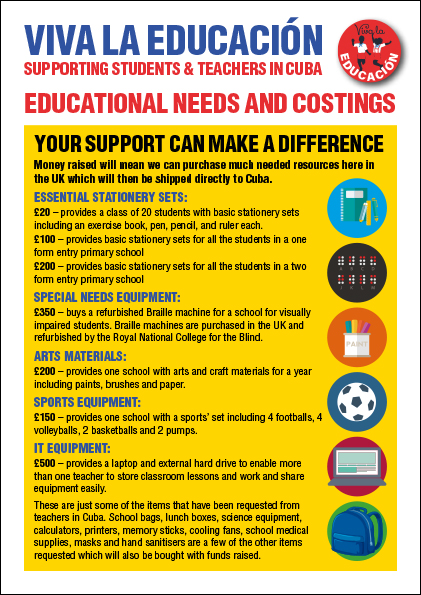 Viva La Educación, a new appeal supported by the Music Fund for Cuba, has raised more than £2,000 in the first few days of its launch.
The appeal, which is a one year project to provide essential classroom and teaching equipment for Cuban schools, was officially launched with an online meeting on 1 February.
Opening the event, National Education Union(NEU) President Daniel Kebede said that the appeal had been launched to counter the impact of the US blockade which was "the biggest obstacle to the development of education services in Cuba."
He said that NEU members who had participated in delegations to Cuba had seen "the shortages and limitations that Cuban teachers and students have to overcome to fulfil their educational potential."
The meeting heard from Cuban educator Isora Enrique who as an English teacher explained how the blockade made it difficult "to find authentic texts, dialogues, audio visuals for teaching English in our schools." There were also challenges to find special educational needs and disability equipment such as wheelchairs and Braille machines, as well as laptops for IT teaching.
Several members of past NEU delegations also sent messages including Sue Piper from Thameside NEU who described seeing 8 children around one computer on her trip.
Gawain Little, chair of the NEU International Committee recalled the "terrible shortages within schools and the education system as a whole" and seeing "students writing two lines per line in
their exercise books because the blockade means they simply don't have enough to go around."
Lesley Ohene-Djan-Koranteng from Croydon NEU said that "despite the horrific blockade they still do over and above what I feel we do in this country, especially for pupils who have got additional needs to their learning. The cubans do as much as they can with the resources that they have."
Rob Miller, CSC director said: "Cuba does show the world what is possible when you put education at the heart of your society and you make it truly accessible and fair for everyone. It is why a solidarity appeal based around supporting education in Cuba is so universal."
As well as essential education supplies Rob explained how the appeal would also help the Cuban teachers union itself "so they can carry out their vital work supporting their members across the country."
Dawn Taylor, vice chair of the NEU International Committee, encouraged others to support the appeal: "This is a joint appeal by the NEU and CSC but it's not exclusive and we hope that other unions and organisations will get involved during the year too" she said.
You can watch the launch meeting and the recorded messages play during it on the links below. Please share to raise awareness about Viva La Educación.
WATCH
Messages from past NEU Cuba delegation members who share their experiences of Cuba and witnessing the impact of the blockade on Cuban education (9 mins)
Message from Cuban educator Isora Enriquez (4 mins)
Viva La Educación launch meeting
---