Violins to Cuba
MFFC news | credit: by Natasha Hickman on: Wednesday, 4 June 2014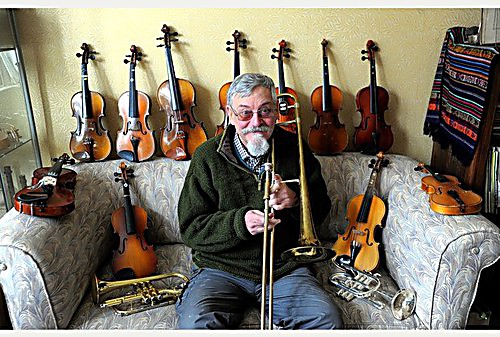 In May 2014 the Music Fund for Cuba delivered more than 20 violins and other assorted musical equipment to Havana for use in schools in the city.
Music Fund supporters in Leicester, Michael Gerard and his partner Caroline Moles, organised the donation of instruments which came from the remainder of stock used by the former peripatetic music teachers, who gave free tuition to children.

"What was a tragedy for Leicestershire with the disappearance of free music lessons will now benefit other young people who desperately need them," says Caroline.
Michael said: "Music is very much an essential part of Cuba's cultural heritage but, for various reasons, not least the continuing economic blockade of the island by the United States, it is difficult to buy even the most basic of arts supplies and materials, let alone musical instruments.
The instruments were donated to a specialist violin factory where they will be checked and renovated as needed before being distributed to schools in the city.
Eusebio Leal, Havana City Historian and director of the restoration program of Old Havana, thanked the Music Fund for Cuba for the donations:
"We will use the instruments for children across the city to help develop our ongoing music education programmes for all".
---