Oxford fundraising gig
MFFC news | credit: by Natasha Hickman on: Tuesday, 30 July 2013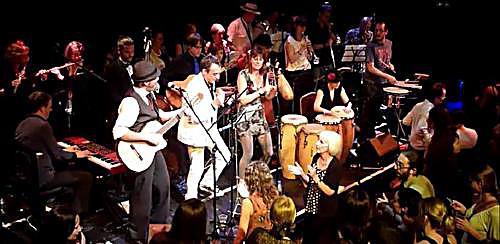 Ran Kan Kan – Oxford's 20 piece Cuban Big Band, bringing you classic Latin rhythms, led by singers Pancho Vera and Melisa Akdogan and topped with a sizzling array of horns, flutes, guitars and strings. Get down to classic Cuban songs in Son, Mambo, Cha Cha Cha and Latin Jazz.
Ran Kan Kan were born in 2011 from a meeting of Oxford-based brass band, Latin percussion and Cuban music fanatics. In a 'Commitments' style journey, they have laboured with love and respect to bring you classic songs from the golden age of Cuban Big Bands, and as ever a new repertoire with tunes never before performed in Oxford.
Proceeds from the night will go to the charity, Music Fund for Cuba, supporting education, music and the performing arts in Cuba.
Doors open and DJ from 8pm, Ran Kan Kan play first set at 9pm
Tickets £7 advance, £8 door
Book tickets online here or call 01865 798792
Pre-booking strongly advised!
---