New album of Kirsty MacColl songs launched in support of the Music Fund for Cuba
MFFC news | credit: by Natasha Hickman on: Friday, 22 February 2013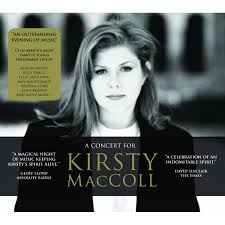 The CD, 'A Concert For Kirsty MacColl', was recorded live at London's Shepherds Bush Empire on 12 October 2010, the date which would have marked her 51st birthday.
The tribute concert was an amazing night. More than 2,000 people packed into the sold out show to hear a wonderful line up of artists including Ellie Goulding, Catherine Tate, Billy Bragg, Amy Macdonald, Alison Moyet, Andrea Corr and many more perform songs from Kirsty's extensive back catalogue.
The concert also marked the tenth anniversary of Kirsty's death in Mexico where she was holidaying straight after recording a series for the BBC about Cuban Music in December 2000. It was a benefit evening for the charity the Music Fund for Cuba which was established in memory of Kirsty who had worked closely with the Cuba Solidarity Campaign for a number of years. Kirsty's mum, Jean MacColl, a Trustee of the charity spoke movingly about her daughter and her love of Cuba, and the work of the Music Fund.
The Music Fund has raised more than half a million pounds to support development projects in Cuba in the Arts and Music including the rebuilding and reopening of the 500 seat Miramar theatre as a community arts and performance space.
The line up of artists was an incredible testament to the respect and admiration felt for Kirsty by so many people. She was not only a wonderful friend to the people of Cuba, but she was a fabulous human being who not only understood injustices in the world but was prepared to use her talent and personality to do what she could to make a difference.
The stage was filled with an image of Kirsty interspersed with the logo of the Music Fund for Cuba. Alison Moyet, Andrea Corr, Amy MacDonald, Billy Bragg, Ellie Goulding, Brian Kennedy, Eddi Reader, Omar Puente, Kim Wilde to name but a few, all sang Kirsty's songs and made it an unforgettable evening for those lucky enough to be present.
With Phill Jupitus as the compere, it also included Catherine Tate performing a characteristically gutsy version of the classic anthem, In These Shoes, made famous through its association with Catherine's first TV series and Sex And The City.
Though Kirsty tragically died in 2000, she lives on through her music and remains an inspiration for many singers, songwriters and musicians.
The Miramar Theatre in Havana, which was renovated by the Music Fund for Cuba, has its main auditorium named after Kirsty and a tribute to her in the foyer.
Union Square Music will make a donation of 50p to the Music Fund for Cuba for each copy of the album sold.
Buy the album today from the CSC online shop here
http://shop.cuba-solidarity.org.uk/departments/music/433/A-concert-for-Kirsty-MacColl
and even more of the proceeds will go to Cuba.
A Concert For Kirsty MacColl (track listings)
1. Soho Square - Ellie Goulding
2. Walking Down Madison - Alison Moyet
3. Tread Lightly - Amy MacDonald
4. In These Shoes - Catherine Tate
5. They Don't Know - Andrea Corr
7. Dear John - Eddi Reader with Boo Hewerdine
8. Head - Alison Moyet
9. Angel (Floating Around My House) - Brian Kennedy
10. Days - Brooke Supple
11. Fairytale Of New York - Dave Duffy & Amy MacDonald
12. There's A Guy Works Down The Chip Shop Swears He's Elvis - Phill Jupitus with Boz Boorer and Phil Rambow
---