Tribute to Kirsty
MFFC news | credit: by Natasha Hickman on: Wednesday, 15 December 2010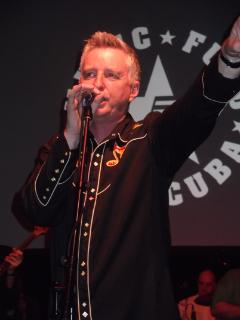 On the date of what would have been her 51st birthday the tribute concert to Kirsty MacColl on Sunday 10 October was an amazing night. More than 2,000 people packed into the sold out show to hear a wonderful line up of artists perform songs from Kirsty's extensive back catalogue.
The concert also marked the tenth anniversary of Kirstys death in Mexico where she was holidaying straight after recording a series for the BBC about Cuban Music in December 2000.
It was a benefit evening for the charity the Music Fund for Cuba which was established in memory of Kirsty who had worked closely with the Cuba Solidarity Campaign for a number of years. Kirsty's mum, Jean MacColl, is now a Trustee of the charity and spoke movingly about her daughter and her love of Cuba, and the work of the Music Fund. Two thousand pounds was collected on during the eventing and the Music Fund will also benefit from the proceeds of the show.
The line up of artists was an incredible testament to the respect and admiration felt for Kirsty by so many people. She was not only a wonderful friend to the people of Cuba, but she was a fabulous human being who not only understood injustices in the world but was prepared to use her talent and personality to do what she could to make a difference.
The stage was filled with an image of Kirsty interspersed with the logo of the Muisc Fund for Cuba. Alison Moyet, Andrea Corr, Amy MacDonald, Billy Bragg, Catherine Tate, Ellie Goulding, Brian Kennedy, Eddi Reader, Omar Puente, Phil Jupitus, Kim Wilde to name but a few, all sang Kirsty's songs and made it an unforgettable evening for those lucky enough to be present.
Once again here's to you Kirsty !
---