Paul Rutherford memorial concert
MFFC news | credit: by Natasha Hickman on: Sunday, 2 December 2007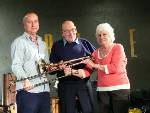 In November, a memorial concert at was held the Red Rose Club in North London in memory of jazz trombonist Paul Rutherford who died in August.
Paul's family presented three trombones and a euphonium to the Music Fund for Cuba at the packed out concert which featured musician friends of Paul playing free jazz.
Paul was devoted to the country of Cuba and its people after first playing there in 1986 as part of 'The Siger Band' British Council tours of the country.
A friend on the tour at the time recalls "The Cuban tour comprised 10 nights playing and residing at the Hotel Nacional, there was a jazz lounge there at that time named after Arturo Sandoval; we played after midnight each night, following a young Cuban big band – "Opus 13" – we were playing free jazz and the young Cuban musicians were very curious. On the last night we had them onstage with us improvising freely, it was exciting.One strange thing I remember on that tour was Paul never changed his watch during the whole 5 weeks, even though we took in 4 time zonesThe greatest thing, I discovered later, was we were the first British jazz group to play in Cuba!Paul and I were invited back in 1988 to play Havana Jazz Plaza Festival – the idea was we would play with 2 or 3 Cuban musicians but they never appeared. Photographer David Redfern and journalist Jack Masarik were there and the festival organisers told us they thought that those 2 were the other members of our quartet! Anyway, we did an improvising duo, doing our own thing – which was just as well when we found ourselves opposite Sandoval's electric band!Paul was on the very first SLAM CD '1989 – and all that' where he and I play solo and duo tracks; by a twist of fate he also appears on the last SLAM CD to be released before he moved on – "Cuban Meltdown" – where other musicians include Bobby Carcassês whom we met that first time back in 1986."
The Music Fund for Cuba thanks Paul's family and friends for also raising £350 for for the Fund to cover freight costs of transporting the instruments to the island.
---