Ken Gill Memorial Concert
MFFC news | credit: by Natasha Hickman on: Tuesday, 25 May 2010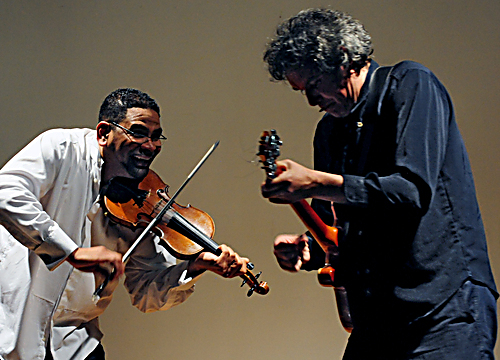 Bolivar Hall was packed out on 23 March for a wonderful classical music concert organised by the Music Fund for Cuba.
The sold out show was described by some of the enthralled spectators as "just a perfect evening", "brilliant performances" and a "testament to Cuban musical education".
It featured three graduates from the Superior Institute of Art in Havana:Ahmed Dickinson Cardenas, played a beautiful set of Cuban classical guitar music by a variety of Cuban composers. Eralys Fernandez Mendez, once again showed her great skill with lovely classical piano pieces by amongst others Calíxto Álvarez and Ernesto Lecuona. Finally, Omar Puente, renowned band leader from Raises Cubanas and jazz violin virtuoso, raised the roof with his unique playing.
The evening was brought to a crescendo when very special guest on the night John Etheridge joined Omar on stage. Eralys and Ahmed returned to the stage and all four musicians ended the show with audience participation to the classics 'Comandante Che Guevara' and 'Guantanamera.
The concert was a memorial event for Ken Gill one of the founder Trustees of the Music Fund for Cuba who died last year.
Contributors on the night Mike Seifert, Trustee of the Music Fund, and H.E. René Mujica Cantelar, Ambassador of Cuba to the UK, both paid tribute to Ken's work reflecting how proud he would have been both of the work of the Music Fund and of the evenings concert.
The concert raised funds for the Music Fund and in particular for the renovation project for the Miramar Theatre. Photos were displayed during the concert illustrating the progress made at the theatre which is scheduled for reopening at the end of 2011.The £200,000 renovation aims to restore the Miramar theatre, in the Playa district of Havana and return it to the cultural heart of the community. When the project is finished the theatre will once again host regular public performances by local residents and community groups, young people, students from the national music school, and touring companies.
The concert was kindly supported by The Ken Gill Memorial Fund and huge thanks must also be given to the support from the Embassy of Republic of Cuba, the Bolivarian Government of Venezuela and of course to the wonderful performers on the night who made this such a memorable event for those lucky enough to get a ticket.
If you would like to find out more about the Miramar Theatre project and the work of the Music Fund for Cuba please contact the Music Fund for Cuba.
---