Rare glimpse of a star
MFFC news | credit: by Natasha Hickman on: Sunday, 2 October 2005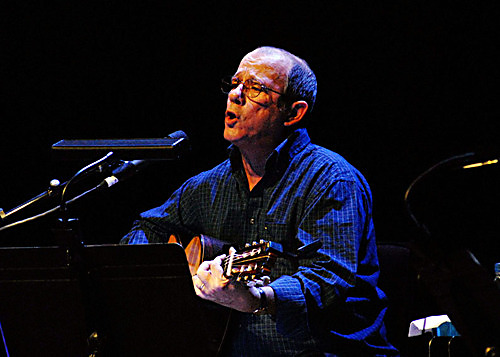 For only the second time in a career spanning 40 years, Silvio Rodriguez performed in the UK in September to launch the Miramar Theatre restoration project for the Music Fund for Cuba. A full house at the Barbican in London raised many thousands of pounds for the Fund, which organised the whole night. UK legendary ska band Madness plus Ska Cubano put in special performances prior to Silvio's appearance.
Rodriguez is a superstar in Cuba and Latin America and he gave a performance worthy of the superlative, accompanied by his band. With a distinctive, clear voice he hushed an excitable crowd, delivering the well-known ballads for which he is famed, as well as some more recently recorded material. His songs of everyday life and love eloquently characterise the music of the
Nueva Trova
movement of which he was a founder. Rodriguez held his audience spellbound complemented for one number by the truly sublime accompaniment of John Williams – a long-time friend and collaborator. Hailed as a modern day troubadour, Rodriguez has chronicled life and change in Cuba from the 1950s and his songs have become the soundtrack to political struggle throughout Central and Latin America. At this special event he proved that his music still touches the heart and soul of his following.
---