Cuban musicians raise funds for Miramar theatre in London concert
MFFC news | credit: by Natasha Hickman on: Thursday, 17 May 2007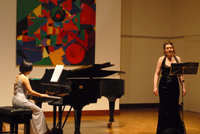 Three talented young Cuban Musicians accompanied by a British singer gave an outstanding performance at the Bolivar Hall on the 17th of May and raised funds for the restoration of the Miramar community theatre in Havana.
The concert, organised by the Music Fund for Cuba, was a sell-out and people had to be turned away. The idea of organising a night of classical and traditional Cuban and European music in support of the Music Fund for Cuba was Eralys Fernandez Mendez, a brilliant young Cuban pianist and a postgraduate student at the Royal College of Music. She asked a fellow student, Chloe Beecham, to join in the concert. Chloe is a mezzo-soprano with a gentle spoken voice but a large and powerful singing voice.
Eralys opened the concert by telling us that there was far more to Cuban music than son and salsa. She told us about contemporary Cuban composers of classical music, such as Roberto Valera, and demonstrated the rich variety of his music, together with pieces by Bach and Schumann.
Two other Cuban musicians, both students at the Guildhall School of Music and Drama, joined them in the concert: Ahmed Dickinson on guitar and Jose Ernesto Zalba on the flute. Ahmed Dickinson played three guitar pieces both classical and contemporary and held the audience with his commanding performance as his long fingers made his guitar sing. Jose Ernesto Zalba completed the performance on the flute, accompanied by Eralys, with a Prokofieff Sonata.
The evening ended with Mojitos all round and a chance to meet the artists.
---